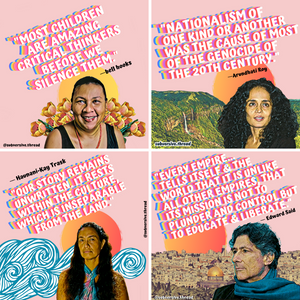 Regular price
(Free PDF Download) "Remembering Radicals Series"
---
This PDF download is a collection of our "Remembering Radicals Series." To get a free copy, add it to your cart and finish checking out. You'll receive a PDF copy by email. Posters include quotes from bell hooks, Arundhati Roy, Haunani-Kay Trask, Huey P. Newton, Paulo Freire, Edward Said, Martin Luther King Jr., Eduardo Galeano, Malcolm X, Yuri Kochiyama, Angela Davis, and Paul Robeson. 
We regularly update this collection, so be sure to check for the latest additions by following @subversive.thread.