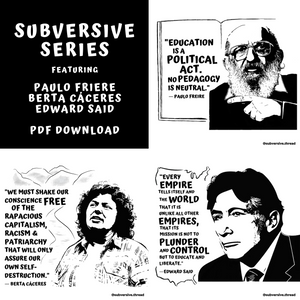 Regular price
(PDF Download) "Subversive Series"
---
This item is sliding scale. Pick the price that feels best for you :) In it you will receive high resolution PDFs of our Subversive Series posts. We started the Subversive Series as a way to reflect who we are as leftist educators of color while also honoring the legacies of the people who have taught us along the way. Now, we wanted to make them available to other educators too. They feature three separate posters of:
Paulo Friere with the quoted caption "Education is a political act. No pedagogy is neutral."
Berta Cáceres with the quoted caption "We must shake our conscience free of the rapacious capitalism, racism, and patriarchy that will only assure our own self-destruction."
Edward Said with the quoted caption "Every empire, however, tells itself and the world that it is unlike all other empires, that its mission is not to plunder and control but to educate and liberate."